A-1 Tint Pros serves Raleigh, NC residents and businesses with durable window tinting installations that include films made in the USA with a lifetime warranty. Our passion for quality workmanship shows in the hundreds of satisfied custom window tint installs we have done, from sports cars and limos to residential homes and commercial buildings. Lifetime tints are available for automobiles, homes, and commercial buildings to add energy savings, safety, theft prevention, glare reduction, UV protection, and lots more.
Contact us about your window tinting project today!
Choose from quality, USA-made products like:
Clear films
InfinityDS™ – Sputtered Neutral and Sputtered Bronze
Silver™ – Reflective
Ultra-Vision™ – Spectrally Selective
SymphonyDS™ – Dual-Reflective
Specialty films including Black Out, Symphony Low Reflectance, 2M White Matte, DR Mirror, etc.
Anti-Graffiti Series films
And much more

Edge to Edge Coverage with No Discoloration or Distortion
Our professional window tint installers ensure a seamless installation of all window films, from corner to corner and edge to edge. This prevents leakage of UV rays, heat, and light–depending on your tint's light screening properties. We also ensure proper adhesion and inspect all windows for 100% clarity before the job is finished.
With a thorough installation and the lifetime warranty that is included on all glass films, you get no discoloration or distortion, allowing for long-term beauty and views. Our USA window film manufacturers provide quality products and back them up with the lifetime guarantee.
Get a Showroom Finish with Class and Style
Explore numerous film options that enhance appeal or elegance for your Raleigh, NC commercial buildings and automobiles, such as mirrored finishes, dark and rich tones of color, and appealing designs. We'll be glad to provide a free estimate or several if you like!
Plain glass doesn't enhance a showroom look, but tinted colors of film can! You car or truck can look sporty with elegant mirrored finishes or dark tones that add more privacy. A showroom can look more attractive with designer tints and colors that still allow an exterior view!
Protect Interior Surfaces from Costly Sun Damage and Heat Exposure
A-1 Tint Pros can give you added protection to your home or commercial buildings with window films that block the heat and fading power of sunlight. Preserve those interior surfaces and products, such as window blinds, desks, books, pictures, wallpaper, furniture, floors, and more with quality, USA-made window films.
Save Energy and Enhance Property Value and Appearance
Save on energy costs through durable window tints that block heat to keep the interior climate comfortable and non-distracting. Your energy bills will be lower and the rooms will be more comfortable during sun and shade transitions.
Increase your Raleigh, NC property value through theft-deterring window films, safer glass breakage protection, and beautiful mirrored or tinted coatings. Add a prestigious look to your office or stylize your home's exterior.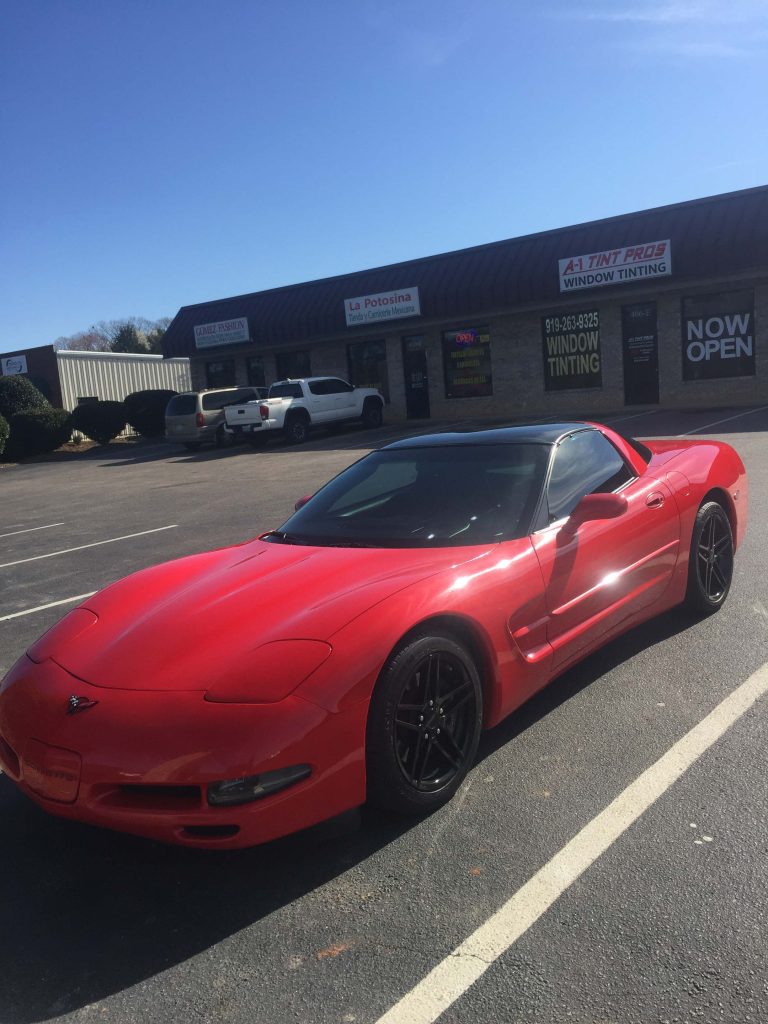 Find a Window Tint to Suit Your Needs
Our selected US glass tint manufacturers deliver superior clarity and protection in their durable films, which makes us your trusted, reliable window film installer. We take pride in satisfying our customers and having them come back for more.
Home Window Tinting
Lifetime window film warranty coverage
Reduces room temperature by as much as 15%
Superior glare protection
Shattering glass mess protection
Eliminates up to 99.9% of UV rays
Improves exterior and even interior appearance
And more
Commercial Window Tinting Services
Lifetime window film warranty coverage
Saves money on energy cooling and heating costs all year round
Protects interior surfaces from sun fade
Blocks 99.9% of harmful UV rays
Durable adhesion through our ultra-strong anchoring system
Optional safety and security films to prevent break-ins and natural disasters
Safety protection against broken or shattered glass
And much more
Auto Glass Tinting Services
Lifetime window film warranty coverage
Strong glare protection from headlights, sun, and snow for safer driving
Safe shattered glass protection from interior messes
Fade protection for interior surfaces
Enhanced privacy
Cooler interior temperatures on hot days
And a lot more!
Shop. Colorize. Stylize. Enhance. Protect. Secure.
With locations in Cary NC, Raleigh NC, and Charlotte NC we can easily provide the outstanding service your are looking for.
It's all here in our Raleigh, NC window tinting services!
For more information on A-1 Tint Pros products and services, visit our window film products and installations website or give us a call today to set up a free estimate!
Contact us about your window tinting project today!
We provide free estimates, call today for more information